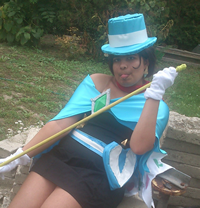 The Ace Attorney's Magical Daughter
Gender: Female
Location: Austria
Rank: Prosecutor
Joined: Tue Sep 07, 2010 2:16 pm
Posts: 817
Wow.
Just wow.
Anyway, I think the style is very nice and easy to understand and the dialouge, so far, seems very good as well.
The actual chapters, however, should in any case be longer than this (such small junks of story just can't lead anywhere, except if you're posting them twice a day)
Most importantly, give the fanfic a title and add a decription. Many people don't even bother starting to read something, when they're not told what they're going to get.

---
...Because I felt the need to advertise
my fanfic
with a self-drawn, animated banner. Yes, I'm obsessed, why do you ask?