The watcher in CR's shadow.
Gender: Male
Location: Scotland
Rank: Ace Attorney
Joined: Fri Jul 11, 2008 4:30 pm
Posts: 6595
LightningfistCal wrote:
Pierre wrote:
Hmm for some reason I'd pegged Gant as Magneto he has more charm to him than Karma but both are viable candidates.
Huh. True. Ah well, I guess von Karma can always be Mr. Sinister or something.
Hey either are good it's up to you. I just think Gant has a kinda charisma that Karma doesn't and Magneto seems charismatic to me
---
Made by Chesu+Zombee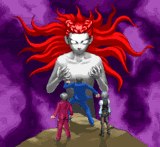 You thought you could be safe in your courts, with your laws and attorneys to protect you. In this world only I am law, my word is fact, my power is absolute.