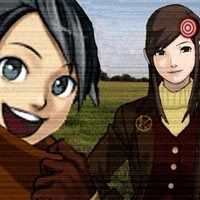 No, I refuse to write anything...
Gender: Female
Location: ....Well....
Rank: Desk Jockey
Joined: Wed Jun 13, 2012 6:00 pm
Posts: 105
If you can't find someone to do original music, or DIY, then I would suggest checking out
this
. It's a site where you can find and download free music/instrumentals. As long as your fan-case is not-profit, than you can use them for free...I myself am working on a fan game, and I've found most of my character themes on this site...it's quite useful!
Good luck with your case!

---