Infinite Ammo? Try INFINITE GUNS!
Gender: Male
Location: A land of ignorance and fear.
Rank: Ace Attorney
Joined: Fri Jul 11, 2008 4:30 pm
Posts: 13990
Unusual request here.
I've hidden an egg in a deep fat frier. I need a short 2-4 line riddle to serve as a clue to its location.
Yes I'm outsourcing this riddle please help.
---
Made by Chesu+Zombee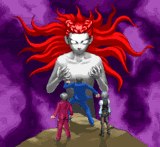 You thought you could be safe in your courts, with your laws and attorneys to protect you. In this world only I am law, my word is fact, my power is absolute.