Gender: Male
Location: Scotland
Rank: Ace Attorney
Joined: Fri Jul 11, 2008 4:30 pm
Posts: 14199
The Colt Single-Action Army..."the most powerful handgun in the world!" From real life but I like it cause of its connection to Revolver Ocelot from Metal Gear.
---
Made by Chesu+Zombee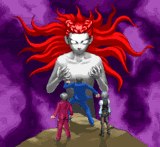 You thought you could be safe in your courts, with your laws and attorneys to protect you. In this world only I am law, my word is fact, my power is absolute.