Close enough...
Gender: Male
Location: A land of ignorance and fear.
Rank: Ace Attorney
Joined: Fri Jul 11, 2008 4:30 pm
Posts: 14096
General Luigi wrote:
Pierre wrote:
Also the weird harem thing with Rex is majorly uncomfortable for me. Especially when the women are literally objects and weapons...and Rex is notably underage
Same. I was willing to let the "Blades are not people" bit go, if only because I got the impression the game wanted us to see them as people rather than as tools and/or minions, but I still have trouble shipping a boy who strikes me as having just started puberty with someone who strikes me as eighteen at the absolute youngest (technically, she's at least several hundred years old). Usually, being canon is reason enough for me to support a pairing, but if it feels too forced or unstable to me, the pairing just ends up feeling uncomfortable to me.
Like the "Blades are people too" works pretty well but it raised a lot of questions for me that mechanically the game didn't support. For example what about the legions of generic blades that I used and tossed away over the course of the game?
Also the concept of these blades as people gets weird when Corinne mentions a bunch of old stories where Drivers married their Blades. I mean sure one day Rex will grow old enough for a relationship while Pyra won't change at all but for the here and now in the game it's downright weird to see how everyone else ships them despite being underage.
Still perhaps it's a cultural thing in Alrest. Still a little uncomfortable which can actually be said for a lot of the character's designs. I really like Perun but man that weird pole-dance animation around her spear seems so out-of-character for her. I never got Dahlia but I've seen how she's designed and it'd be enough to make me uncomfortable playing the game on the bus.
---
Made by Chesu+Zombee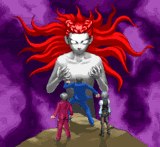 You thought you could be safe in your courts, with your laws and attorneys to protect you. In this world only I am law, my word is fact, my power is absolute.