Drifting Virtuoso
Gender: Male
Rank: Suspect
Joined: Tue Aug 13, 2013 12:47 pm
Posts: 2
The characters in this case are Phoenix Wright, Miles Edgeworth, Dick Gumshoe, Richard Wellington (played by me), the judge and Wocky Kitaki.
The evidence is here:







I'm not going to tell you what part each thing plays (ie. make it up on the spot) except that the gun Gumshoe was holding gave out the bullet implanted in Kitaki's head and the time of murder was after 19:00 (according to the most recent autopsy report.
OK, here's what happened. The defendant, a Richard 'Dick' Gumshoe,

was witnessed murdering the fourth head of a well-known gang. All that is known is his surname 'Kitaki'

due to the constant name-changing. Seeing as this member was the only reason why the Kitakis were a Community Clan, we strongly advise that this trial is completed swiftly. The first witness is Richard Wellington:

A former con-artist and accidental murderer who has paid his debt to society.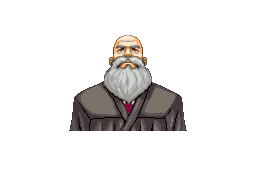 Last edited by DragonflyShadows on Tue Aug 13, 2013 3:17 pm, edited 2 times in total.