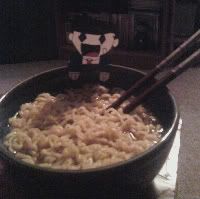 HappyGumshoeisHappy
Gender: Female
Location: X City
Rank: Suspect
Joined: Tue Apr 13, 2010 4:31 pm
Posts: 9
[One thing I absolutely love about fan forums such as this is the ability to Roleplay as either a current character or an original character. From my time on playing the Ace Attorney games, I've learned enough to create my own character. Here, I will post a description of my OC. If anyone is interested in joining in, I will post my starter.]
Full Name: Carol Ling
Age: 24
Gender: F
Height: 5' 5''
Weight: 126 lbs [Athletic build]
Occupation: Police Officer in Training
Birthdate: March 14th
Appearance:
Carol has a tomboy cut hair style with her raspberry red hair. Her eyes are a crystal-green and are usually kept at a narrow glare, though they're hardly looking at anyone coldly. She hardly wears make-up, only for certain occasions and only a little bit. She has a custom made police outfit with thick shoulder protection and modified bulletproof lining. Her arms and legs are well built from years of daily running and light weight lifting.
Bio:
Personality:
Carol had always made it clear that she wasn't one for talking. Any friends that she has had or would have would know her only by her glance and nod. She hardly ever smiled or laughed, usually only giving a slight grin and chuckle. It would take something at just the right moment to make her laugh at all.
She's extremely observant. Whenever she meets someone new, she can identify their past almost perfectly. And she usually comes to conclusions faster than most, typically being correct. How she explains it is that she is merely stating the obvious where most others hardly see it.
She knows very well how to handle herself. Through her life, she never really had a long lasting relationship, mostly because the men she dated couldn't deal with how assertive she would make herself. It wasn't that she was aggressive towards them or angry, it's just in her nature to take matters into her own hands. And those men didn't find that trait too appealing in women. And she usually thought those men were just weak; that they weren't real men just because they couldn't handle a strong woman.
---

http://azuanta.deviantart.com/