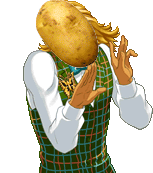 nuuuuu, stoooooop
Gender: Female
Location: America
Rank: Admin
Joined: Fri Feb 23, 2007 5:16 am
Posts: 5255
While blood, sweat, and tears fly as the new forum server is beaten into submission, in the meantime we can at least announce the winner of our front page banner contest!
Congratulations Tanithkitty!!!
As you can see, Tanithkitty has provided us with a lovely new front page banner! Not only that, but we have a shiny new page layout, with a navigation bar to follow you wherever you go! The "Daily Sprite" has been replaced with a "Random Sprite" that should change whenever you travel back to this page (but please, for the sake of our server, don't go refreshing a dozen times! Trust us, it changes!) And of course, a new poll system Wooster developed for us, with a nifty Ace Attorney theme and no more pop ups!
The character pages are still undergoing construction, and I won't be able to finish them all tonight. But they'll be just as sparkly soon, and sporting a forum-style Spoiler button for convenience. Check out
Larry's page
to see it in action.
As always, we'll keep you posted on the state of the forum. And if all else fails, you can always come check out CR's new IRC channel, #courtrecords @ dynastynet. If you don't know how to go about getting on IRC, you can always check out
Mibbit
to help you out.
Though things have been a bit rocky lately, CR's admins are still working hard with dedicated community members to continue bringing you the best Ace Attorney site EVAH. Thanks for your support!
---