---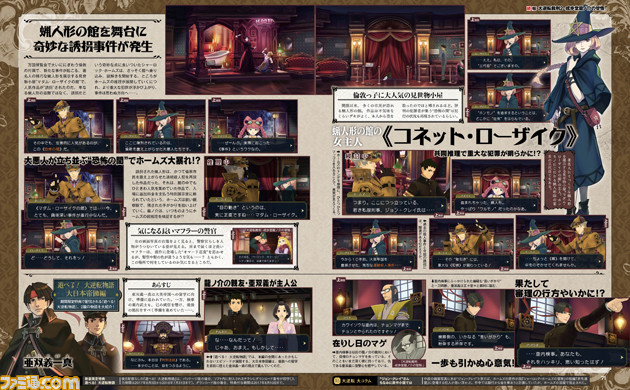 Hot on the heels of last week's trailer, and with the game's release just around the corner, Famitsu has one more scoop on DGS2 that shines a little more light on some of the scenes we saw there!

This week's article introduces doctors Sithe (left) and Goulloyne (right), a mother-daughter team of coroners who play a part in the legal system's slow march towards forensic science. The magazine also introduces a kidnapping case set in a waxworks museum involving a woman named Connette Rozaic, who winds up as the target of Holmes' latest bout of reasoning; a distinctive long scarf is visible off to one side of a screenshot, suggesting Pat O'Malley may be making an appearance (which the magazine points out). Finally, we get a brief look at Asougi's Asinine Attorney mini-case.

Full scans to come Wednesday as usual!

UPDATE: Scans:



Per above, the magazine introduces coroners Courtney Sithe and Maria Goulloyne. Sithe is the head coroner of Scotland Yard - a position that was only recently created - and works at the forefront of forensic science with her daughter Maria; Ryuunosuke meets them when the case he's investigating calls for more detailed investigation, including fingerprint work. Though Sithe can seem blunt, she also makes it clear that she sees her job as her own way of fighting criminals.

Next, the magazine introduces a waxworks "kidnapping" case. In a somewhat off-the-beaten-path corner of the World's Fair, a waxworks museum has been erected, featuring the works of the Rozaic family. Unfortunately, one of the major figures from the museum's House of Horrors, which collects London's major criminals, has gone missing - and Holmes is intrigued by Rozaic referring to it as a "kidnapping". It's not long after he gets there that another bout of Joint Reasoning crops up. Later, at the trial, Rozaic testifies that the criminal was using the theft to demand a virtual fortune for the figure's safe return. She also notes that the wax figures of the museum are created by taking a cast of the person's face directly

Lastly, we're given brief introductions to the pre-order bonus Asinine Attorney mini-cases. In the first, Asougi takes on a special trial as part of his preparations for studying abroad, going up against a still-angry Payne; in the second, Holmes takes to the defense bench when Iris is arrested, with Ryuunosuke as his 'assistant'.