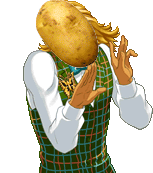 nuuuuu, stoooooop
Gender: Female
Location: America
Rank: Admin
Joined: Fri Feb 23, 2007 5:16 am
Posts: 5255
CR is still chugging along with AJ updates! Just about all the names have been updated around the site, though there may still be a few places that I've missed. New English graphics have been going up as well, and I have just about everything up through case 3 in the right places. But I still need to update the case descriptions with some of the details of the new localized version, so there might still be inconsistencies in there. Some sprite sheets will need updating as well.
I'd like to give a special thanks to our group of forum members that plowed through the game as quickly as possible to get all the names for CR. Thanks for keeping us posted!
Lastly, now that AJ is out some GS4 sprites are going to start appearing in the Daily Sprite box, but like always, they will never contain breakdowns or plot spoilers.