Objector
Gender: Male
Location: The Universe
Rank: Suspect
Joined: Tue Feb 27, 2018 1:54 pm
Posts: 7
Hello, all! I have finished my new game for Eagle Rong: Ace Prosecutor. It is just an introduction to Eagle Rong so it is only one trial, but it lasts all three days with some new characters, mechanics, and more! Eagle Rong is supposed to be a world opposite of Phoenix Wright's. Eagle is a prosecutor and he has help from his friends, Roger Makkins and Sally Spase. They help him find the truth.
I made a mistake and didn't split it into parts, so it is all straight through. I'm really sorry. Please go check it out and I hope you enjoy it!
Edits will be made in the future to fix some mistakes so feel free to tell me if you see any!
http://www.aaonline.fr/player.php?trial_id=101527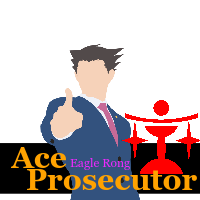 ---
~MrWrightIsWrong
--Objector--
--Beta User--