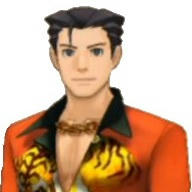 I'm ThyDoppelganger. 'Nuff said.
Gender: Male
Location: India
Rank: Suspect
Joined: Fri Mar 31, 2017 4:42 pm
Posts: 15
Hello! I'm new to this forum. I'm a fan of the Ace Attorney series, and I decided to join this forum out of interest. I love pretty much all the games (I have not yet played the 3DS games

). So, um.., Hi!
---
You know, Xin Eoph is much better than the spiky-headed lawyer.