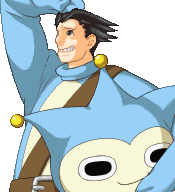 It's Gyakuten Kenji, not Keiji!
Gender: None specified
Location: Edgeworth's sofa
Rank: Decisive Witness
Joined: Mon May 10, 2010 11:35 am
Posts: 203
kwando wrote:
Not to be OCD Grammar Nazi, but it says anwser, not answer...
Whoah, I haven't noticed this.
Aside from that, there is a little issue, which had been bugging me for some time now.
There's that "What is Croik's favorite food?" question. It is relevant, okay. But the right answer is a bit too long:
"Lots of Potatoes,Bunch of Potatoes,Potatoes in General,French fr-err, Potatoes", to be precise.
It is too long, and the text goes down, blocking the um.. User Panel.
Although, maybe it's just me.. But I stil think that maybe it would be nice to make an answer sound something like: "Anything potato related". Or something like that, to your taste.
I hate to say all this but I just had to use the opportunity and share the problem.
Thanks.
---