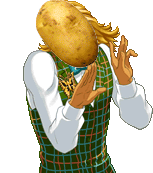 nuuuuu, stoooooop
Gender: Female
Location: America
Rank: Admin
Joined: Fri Feb 23, 2007 5:16 am
Posts: 5255
Now that GS5 is all systems go, time to bring this topic back! Here's what we know so far:
-GS5 will be released on the 3DS, probably sometime in 2013 (Japan)
-Capcom is hopeful for an American release but it's not set in stone
-The game will take place 1 year after the events of AJ, starring Phoenix. He is a lawyer again.
-Gameplay will return Phoenix to court where he's able to use Kokone's "Soul Scope," a holographic interphase that allows her to detect mode changes in testifying witnesses.
-Sprites are being replaced with 3D models similar to PLvsAA, and there will be animated cutscenes courtesy of studio Bones.
-It's being headed by the AAI team (Eshiro, Yamazaki, Iwadare)
So far the characters confirmed are:
-Phoenix Wright
-Kokone Kidzuki, Phoenix's assistant and fellow defense attorney
-Shinobu Morizumi, Phoenix's teenaged client (friend of Kokone)
-Winston Payne's brother in the role of opening prosecutor
-The Judge
-Shingo Barashima, a police officer
No news on returning characters, but the creators assure us that it takes place fully in the same world/timeline as the previous games.
---


Last edited by Croik on Sat Sep 22, 2012 8:09 pm, edited 5 times in total.

Clarity was needed