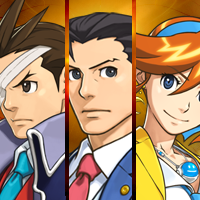 The Ability To See The Truth.
Gender: Female
Location: The Courthouse
Rank: Desk Jockey
Joined: Sat Nov 15, 2008 8:09 am
Posts: 81
Based off of an
old thread
that had the idea that maybe Apollo's power should be telepathy instead of Perceive. Read that and went :DING!:. Hello, crazy as hell Polly! So totally AU it's not even funny, since this Polly's always heard the truth.
Title: Glass Minds
---
Counting. It helps to count. One, two, three, one, two, three, around and around. Winding up his mind and pulling in parts of himself and his soul and his being.
Around and around, the endless cycle and circle of time. His childhood marked by lies and insanity. Lying workers and caretakers, whose minds spoke volumes when their lips were sealed. Images and words and deeds that no child should see, didn't see, found and ferreted out of their minds. And quickly learned what "insane" and "unstable" and "wrong in the head" meant when he spoke of things that no one should know.
And it was worse when he ignored it. The voices would be louder, more pressing on the barriers, edges of his mind, his and his alone. But if his mind was busy-
One two three, one two three, around and around his bracelet goes. Counting the rotations as he fiddles with it, moving it around his scrawny wrist. One two three, ignoring the mark the movement made. Anything to keep his mind closed, isolated from everyone, every liar, cheat, fool, idiot, all those animals with faces of humans, with souls and minds of demons.
He tried everything, every single thing that could keep his mind occupied. He played games, read books, and hid in the tops of trees, studying the clouds that had no thoughts to bother him. All alone. If adults were demons, then the other children were the most evil monsters. They had no grasp of right or wrong in their minds, only being afraid of punishments if they acted like what they were.
He hid himself away, avoiding contact and slowly developing a nervous tic. The bracelet's edges were starting to become stained with red as he grew older, as his mind started fracturing more and more. Teenage years were horrible, as the monsters became demons and devils, as their minds started to dream such things, such things involving others.
More and more he stayed in his tree, moving his bracelet around and around. One two three, one two three. Becoming more broken every time he met someone new, met someone who said one thing on the outside, but inside was evil was twisted was almost as broken as he was.
Until one day there was a visitor. Tall, taller than him (but who wasn't, with his skipping of meals to avoid people?), blond hair draped over one shoulder. The man spoke to the caretakers, something about a case he was working on. But the boy didn't care. This man. His mind was... dark. Not dark as in all the lights were off, but as in a wall holding back the world. Holding back this curse of the boy's.
He didn't care what the man was like. There were people out there he couldn't hear. Couldn't take apart piece by piece, ripping out tender chunks. So he had a goal, a goal of sticking close to this man, and using him as practice to control this curse. Maybe... Maybe if he could punch through those shields, he could do the opposite and pull back from everyone.
One two three, one two three, around and around. If he had thought the care house had been bad, the world outside of it was even worse. Students lied to their professors, professors lied to their department heads, the department heads lied to the president of the school. It was a chain, an never ending cycle of lies. The curse hurt his mind, like a pebble thrown at an already fractured window, but it made tests easy (cheating, cheating, cheating away the world...)
And then, he was free. His curse still hadn't seen inside the blond man's mind, but he was away from the other demons, devils, monsters. Hiding in the filing room for as long as possible, working and working to avoid people (no tree here to climb).
Until. He was requested. Only a fool would request him, untested and un-everything that made a good lawyer. He'd have to leave his hiding spot and face people, face a judge and a witness and everyone. And ask his client "Are you guilty? Did you do it?" and pluck the answer from his mind.
But this client. His mind was different from the blond man's. This one's mind was like a fireball, burning and churning and moving too fast to latch onto. He half expected the client to be absolutely insane from having a mind like that, though the client generally acted like a jackass for quite a bit of the trial.
But then was he was pointed towards the blond man, told that he did it. That the blond man killed the fake player and the boy almost wept. The blond man's mind was still dark, still holding tight to it's memories and thoughts and ideas. In the end, it took logic and facts instead of jack-hammering away at the man's emotions (and plucking thoughts and emotions and knowledge from thin air) to win.
The boy turned to the client, the forgotten legend, a new target with a mind he couldn't latch onto. And in doing so found someone else with a mind like his, but much more well kept. Instead of fractures, there were neat sutures on her mind. Instead of breaks, there were mends, instead of burns and cracks and corrosion, on her mind were flaws that turned into perfection and ran to infinity.
A kinship, a kinship of cursed minds (and even more, more hidden in other minds hiding behind darkness and whirling motion).
"One two three, one two three, around and around we go."
---

I'm not currently working on sprites/stories/anything at all... Cause grad school.