Zhang Juanli (Rabbit)
Gender: Male
Location: Scotland
Rank: Ace Attorney
Joined: Fri Jul 11, 2008 4:30 pm
Posts: 14350
It's kinda faint but I love what I think is the mirrored hairclips for butterfly wings? Dual witnesses are plenty cool, really liked that one in Spirit of Justice that used that gimmick.
---
Made by Chesu+Zombee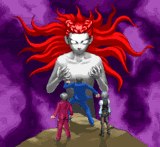 You thought you could be safe in your courts, with your laws and attorneys to protect you. In this world only I am law, my word is fact, my power is absolute.