Quote:
Umm... Online public school... And of course you'd be putting the onus on other people to compensate for a problem you created... You made a problem because there was another, bigger problem that they failed to correct and it forced your hand...
No...no it really didn't. The individual threw caution to the wind knowing full well they might get in trouble for what they did.
There were alternatives. If an individual turns to violence and gets expelled they've created a problem for their parents, their hands weren't forced. Nobody made they fight or resort to violence, no one said it'd be a good idea.
Again all of these are only trying to justify the ABSOLUTE negative outcome of being expelled. Nothing good comes of the violent approach, at least with the diplomatic approach there's a chance it'll be resolved peacefully.
Quote:
At least then you know they're avoiding/targeting you for something you did and not something stupid like good grades and hobbies or something you can't control like orientation or race.
The hell does that change? They are still avoiding or targeting you, does the motive matter?

The outcome is still the same!
Also I'd argue resorting to violence to get yourself expelled IS something stupid.
Quote:
Gee, maybe because one of the effects bullying has on victims is depression, and depression can affect grades negatively? By "educational life is down the drain anyway" I meant that so long as the bullying is still going on, the victim's grades are pretty likely to drop. Even if it's only for a little while, it can kill your GPA to the point where you don't get the honors you would've otherwise.
Sure it CAN, it MIGHT happen. I know many smart individuals who were bullied who got past it. Sadly most of them got past it by being rather conceited and self-certain in their own intelligence (and derogatory towards the bullies' intelligence) but they persevered. It's not a guaranteed side effect and a lot of things can cause depression in school years.
It's a possibility but it's not a cause-and-effect guarantee. Just because you are bullied doesn't mean your grades will plummet.
Quote:
You see, my entire life I've had this doctrine of "Run to the teachers! They'll help you solve your problems! =D =D =D " shoved down my throat, and yet I've seen, more than once, a student being entirely written off by a teacher. Serious issue, trivial issue, whatever, the adults don't listen. The point I was trying to make was that diplomacy is not the only valid option; maybe violence won't necessarily end in a good outcome, but it's better than trying again and again to ask an adult for help and have them tell you they can't or won't do anything, if they take the time to listen in the first place. It's something the kids can do if no one cares enough to hear them out, at least.

The problem is you keep suggesting Violence has a positive outcome. By saying it "won't necessarily end in a good outcome" it's a phrase tinged with positivity. It hints that it'll probably end up well but might not necessarily.
How? I've said repeatedly how the only outcomes are negative. Your responses are to say "Sure you might get expelled but hey the bullies are gone?" or "Sure you might be dying but hey, don't need to deal with bullies anymore!"
You acknowledge the bad points but you don't consider them bad. Dying and being expelled are objectively negative outcomes. So why take a path that only leads to negatives?
Bullying: Diplomacy or Violence?
*Diplomacy: Effective or Ineffective?
*Ineffective (Bullying continues)
*Effective (Bullying stops or is controlled in some manner that the problem disappears)
*Violence: Victory or Defeat?
*Victory (Bullies are aggravated, School Authorities are incensed, You are punished, Bullies can still retaliate)
*Defeat (Bullies beat you, potential other torments at the mercy of the bullies, bullies get a laugh out of it. the threat remains)
Note also that unlike a violent approach the Diplomatic one can be tried multiple times with different individuals to find someone who will follow through on the issue. If one teacher brushes you off take it a level above them, this is the sort of thing the teachers should care about, you could take it to a local paper or the parent-teachers association and disgrace said teacher and in the rush to make amends the school absolutely would focus on sorting the problem.
Quote:
The American Revolution...?
I reject this comparison, we were talking about just hurting another human being, Wars are fought for much greater consequences than the violence example we were talking about.
Quote:
Um, for the record, I've been writing under the assumption the victim was in worst-case scenario, the system is shit, and the parents are either not there or not helpful... I do agree that, in a working system, the victim should always try to ask for help from parents and such first. But in a situation where the system is not working, violence should be a valid option. Because again, I stress -- if the system is not working, what the hell else is the victim supposed to do? Lay down and die?
No the victim should keep fighting diplomatically, as I stressed above, the diplomatic solution is something that can be doggedly pursued, you can get public opinion on your side, turn the power of the press against the school. This is assuming that the school doesn't buckle and try and resolve it when you merely threaten them with the press.
The world is slowly turning against the accepted assumption that "Boys will be boys" such violent attitudes (not to say that it's exclusive to boys) are no longer tolerable and any school that is caught shrugging off bullying as schoolyard fun will surely find itself facing the cold stony judgement of a higher authority and facing consequences for it.
Violence is not an option because it can only end badly, even when you win the fight. Diplomacy is a repeatable option, as I stated earlier there is no 'perfect' solution for bullying so the least we can do is give ourselves the best chance.
---
Made by Chesu+Zombee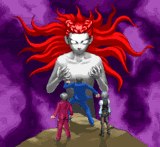 You thought you could be safe in your courts, with your laws and attorneys to protect you. In this world only I am law, my word is fact, my power is absolute.