to the right person
in order to improve it or a suggestion. Actual ill will directed at others? There's no guarantee it'll accomplish anything, it's just an outlet for you to make someone else potentially feel like crap which might also get you in trouble. There are safe venues for outletting frustration but we shouldn't take it out on other people.
But that's not what we're here to talk about...
davech1987 wrote:
Does anyone else think the phrase guilty pleasure is kind of pointless as it implies you should feel guilty about whatever you happen to enjoy that others may look down on you for liking. Which I saw bull at the end of the day are should like whatever you want and not feel guilty or ashamed of it ( granted the are definite exceptions to that). I mean I still ike playing pokemon and yu gi oh and on the odd time to time listen to music from tv shows i use to watch and I am 26 and alot of people know I enjoy them and have made fun of me for it , do i care ?

NO

Anyway rant over

What are your thoughts
You are right in a lot of ways but these impressions are very VERY deeply ingrained. It's why I don't dare buy a game like Catherine from Atlus or DOA and play it at home...because it's a family household with kids and my folks already disapprove of gaming as much as it is without bringing home something that looks like the game equivalent of a playboy magazine (though that title probably goes to the Leisure Suite Larry series).
In the end it's about approval, if something's a guilty pleasure we keep it secret because we know it'd be upsetting to other people if they knew. Sure it's wrong and it'd be great if everyone could accept it and we ARE getting there.
Of course total acceptance won't ever be around, society would collapse if it was the case, how could we judge a murderer if we just fully accepted them and their behaviour? Relatively harmless hobbies SHOULD be accepted.
It's a world I can't really imagine, the internet both harms and helps the problem and in real life I think society is inching closer to it's own realistic non-judgemental solution in places but I think the phrase will always exist. Even if we get more accepting that bar will just shift and new (arguably more unacceptable things) will become guilty pleasures in place of the old ones.
---
Made by Chesu+Zombee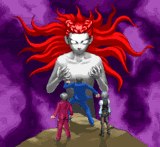 You thought you could be safe in your courts, with your laws and attorneys to protect you. In this world only I am law, my word is fact, my power is absolute.