Gender: Male
Location: Scotland
Rank: Ace Attorney
Joined: Fri Jul 11, 2008 4:30 pm
Posts: 14329
Aw crap I'd forgotten he'd done Xehanort...he better get a dedication in the next kingdom hearts game especially since they were making his character super important.
Still rest easy Spock. Nimoy was a fun guy who did fun things and pretty much established a culture on his own. Definitely deserves some posthumous award for services to entertainment.
---
Made by Chesu+Zombee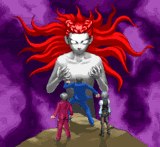 You thought you could be safe in your courts, with your laws and attorneys to protect you. In this world only I am law, my word is fact, my power is absolute.