Scent wrote:
This is a bit of old news, but... Originally, Final Fantasies V and VI were supposed to be remade for the DS, but due to technical difficulties (meaning they wanted to pull a FFIV DS; completely 3D and voiced dialogues) they couldn't remake them. But with the 3DS rising from the horizon, do you think they may remake these two titles?

Discuss.
I hope so. Especially FFV since I have already completed FFVI.
They can keep Kefka's voice actor (and Terra's too, I guess) in Dissidia for a FFVI remake, he was amazing. Though I wonder how they would pull off his
glorious 16-bit laugh
? Maybe they should keep it just for the nostalgia factor.
My favorite character in the series would be Setzer Gabbiani. I mean the real one...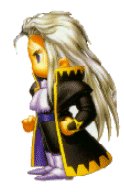 ... and not the emo impostor from KH2.