Pierre wrote:
Hey sorry for the delay. Yeah I passed my viva

I'm on track to doctorhood and that feels super weird. Gotta tell friends and family to stop calling me "Doctor" cause it's so strange.
The viva went well, I've been given all the thumbs up. Things will still be getting verified and documentation processed, then I can properly call myself a Counselling Psychologist (or a Chartered Psychologist). Sadly, there'll be no big graduation ceremony cause of Covid, and I'd love a nice meal out somewhere but things are limited as is.
Now to exhaust myself in looking into jobs

Congratulations on passing! Although, before you start a new job consider taking a break/holiday for a few weeks. When you start at your new position it will be hard to get an extended period of absense, so you'll want to recharge yourself first from all the stress of the study and the past year.
I wouldn't let this event go uncelibrated. It's unfortunate you can't get a ceremony or a big party, but a small gathering of family and/or friends is in order for such an occasion wouldn't you agree?
Small gathering of family sure that's available, we went to lunch in the local pub, but friends? That's trickier to pull together with tiers and lockdown and whatnot. Something sometime, maybe next week I'll be able to do something.
Also parents are putting plenty of pressure on me to apply for Jobs already so eh XD
Made by Chesu+Zombee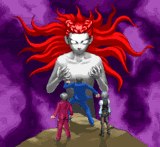 You thought you could be safe in your courts, with your laws and attorneys to protect you. In this world only I am law, my word is fact, my power is absolute.