Gender: Male
Location: Scotland
Rank: Ace Attorney
Joined: Fri Jul 11, 2008 4:30 pm
Posts: 14339
Enough expository banter! This is the final version! I apologise if other family members aren't considered into it because there's too darn many to recount and Bertrand was the only one I tracked at the start. Shoot me a discord or PM if you want a particular relationship with Basil
Name: Basil Moonview
Age: 46 (second oldest son of Gloria)
Appearance: 80's businessman. Big padded-shoulder suits. Smokes a pipe.
Bio: Basil was very tired of Bertram's attitude growing up about the superiority of himself and the Moonview family. So left the island as soon as he could to try and become self-sufficient. This wasn't done without using some of his family's money to get his business off the ground but Basil successfully grew his small business into a car parts manufacturer. Basil maintained good contact with the rest of the family for family gatherings but generally tried to avoid Bertram at these, seeing how Bertram's attitude only got worse with age.
Not long after moving to the mainland, Basil met Diane who he loved dearly. She was charming and graceful and generally loved by the family. They had two children together who they doted on. Unfortunately, on a holiday back to visit Eventide Island, there was a horrible inexplicable accident where Diane died on a boating trip around the island 2 and a half years ago while his son Asher was maimed for life.
Basil was distraught but it was a short while after that the rest of the family received invites to a new wedding between himself and Wyn Buckley, his then secretary at his business.
---
Made by Chesu+Zombee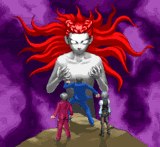 You thought you could be safe in your courts, with your laws and attorneys to protect you. In this world only I am law, my word is fact, my power is absolute.