You're too slow!
Gender: Male
Location: Watching an Investigation from the bushes
Rank: Desk Jockey
Joined: Sat Aug 13, 2016 5:42 am
Posts: 106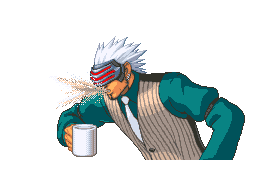 I respectfully disagree...
---
Phoenix is always WRIGHT!
You could've seen that from MILES away.
I sure have a LOTTA guts for doing this.
Wow, I almost FEYNTED from all these!
Man, That detective sure is a FOOL to be so BRIGHT!