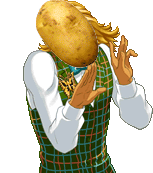 nuuuuu, stoooooop
Gender: Female
Location: America
Rank: Admin
Joined: Fri Feb 23, 2007 5:16 am
Posts: 5255
If you're having trouble accessing the forum, it's because the main forum is on temporary lockdown. Our server (Dreamhost) was giving us the evil eye again, so instead of waiting for them to make a move, Wooster has disabled the forum in a preemptive defense maneuver. However, our old forum has been revived and can still be found at the following link:
http://z11.invisionfree.com/court_records/index.php
Sorry about the short notice and the confusion. All your data on the main forum should still be there, and is being backed up. We're going to be moving the forum off of Dreamhost to a new server within the next few days (Friday or maybe Saturday). Things may be a bit tricky for a while, but Wooster and I are working hard to get everything ironed out. Thanks for sticking with CR!
In the meantime, the main site is still chugging along, and in fact you should notice a few style upgrades coming soon, along with the winning banner entry. We want everything to be at its best when the real Gyakuten Kenji news starts to hit!