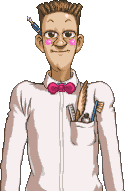 If you're interested in helping out, check out my
post
in the requests thread. I'll need others as well, but they could be considered spoilertastic so I'll do those via PM.
BuddyFaith wrote:
Thanks for submitting your Payne sprites. However, people have already made many more custom poses for grey Payne, which I long ago took the liberty of appropriating. Since I don't think it's important which color he's wearing, my intuition is to go with grey.
P.S. Can this thread be merged with the Legendary Lawyer topic? I'd prefer to keep the Legendary Lawyer game title, though.