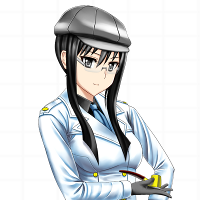 (Sp)ace Detective
Gender: Male
Rank: Decisive Witness
Joined: Fri Feb 26, 2010 4:36 pm
Posts: 182
Welcome to my fanfic thread. I'm a first-timer at this, so critique is greatly appreciated.
Right now I only have one offering:
In My Father's Shadow
Spoilers:
AAI-5
Rating:
K+
Genre:
Angst/Family
Pairing:
Byrne/Kay (parental)
Summary:
After the events at the Allebahst/Babahl embassy, Kay reflects on her past, her relationship with her father, and her path in life. Fluffy oneshot.
It's my first ever fic for a public audience; let me know if you liked it (or didn't).
EDIT: Whoops. Fixed spoiler notification
---
Read my fic(s)!
Friedrich Nietzsche wrote:
We have no dreams at all or interesting ones. We should learn to be awake the same way — not at all or in an interesting manner.


Last edited by KingRaptor on Sat Apr 03, 2010 2:23 pm, edited 1 time in total.