All your evience are belong to us
Gender: None specified
Location: Daegu, KOR
Rank: Suspect
Joined: Sat Oct 17, 2009 6:34 am
Posts: 3
I think the sprite sheet of Gregory Edgeworth in GK2 (
http://www.court-records.net/sheets/gk2 ... regory.png
) is horizontally reversed from the original.
Because Gregory is a protagonist, (though he acts as a protagonist only in episode 3) he must stand on the left side of screen and face the right side-
just like this.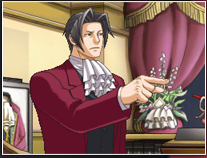 Please consider this when making GIFs from this sprite. And if can, please correct the sheet.
* I have checked the other GK2 sprites too. Fortunately they were OK.