---
For those of us not in the Loop, Lost is Capcom's Community Specialist. Sort of like the go between the Fans and Capcom itself.

So far, Lost has fronted styluses for our "GS4 Prosecutor Contest", relayed our interview questions to the localizers (And Development team, but that's inprogress), given us the heads up on GS3's Localization 'before' Capcom's embargo ended, (That could technically get him in a lot of trouble if he got caught, me thinks), and recently he just provided us the contents of the GS3 Press Kit, which was how Croik was able to uploaod the trailer and the Offical Art of Young Phoenix etc...

This is above and beyond what anyone could've expected of anyone. While Lost has been doing a lot of stuff for us, we haven't really been able to return the favor.

Until now that is.


------


Here is what we're going to do. I'm going to upload a picture, and then I want you guys to sign it yourself, then upload your revision.

Thus Person A takes the Picture. Downloads it, Doodles, then uploads.
Person B takes Person A's Picture, downloads it, doodles, then uploads.
Person C takes Person B's Picture, downloads it, doodles, then uploads.

We do this until the picture is full of thank-you's and silly little pictures of appreciation.

If the picture doesn't get filled quick enough, then Croik will decide a cut off date to which we stop the editing and accept only messages and such. (She will decide this as likely I won't be back from my grandfather's funeral in time to make the call)


------


Now, as this is a surprise for Lost, it's a BIG no no if you inform him or talk about this. If discussion of this project occurs outside of this board you could easily be banned until this project is completed.

But, you say, all I have to do is log in and I can see this.

Wrong.

I've rigged this forum so only Registered Users who are not Lost can see this forum. So Lost can't see this as a Guest or as himself. He 'could' see this if he made a new account. But that's exactly why I need you folks to keep this a secret.

-------

Here's the image to start with. Doodle what you want, then upload in this thread for the next person to doodle on.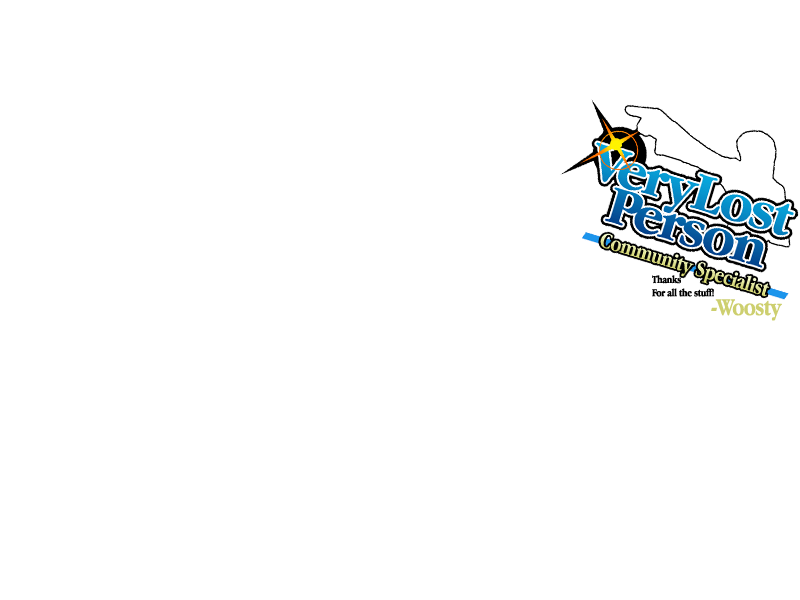 -Enjoy!

------
RULES:

1. MAKE A POST TO RESERVE YOUR SPOT FOR MODIFICATION. ANYBODY WHO TAKES ANYONE ELSE'S SPOT WILL GET THEIRS REMOVED.

2. KEEP YOUR IMAGE SIZES IN CHECK. KEEP THE SIZE SMALLER THAN THE 'VERY LOST PERSON' IMAGE. Try not to use images straight out of the game; not only are they unnecessarily large, your own effort is always a ton better.

3. Don't move people's work unless I okay it later on. Right now it's totally unnecessary.

4. People who violate rules must reregister their turns again.

5. IF YOU TAKE MORE THAN 30 MINUTES, YOUR TURN WILL BE INVALIDATED AND YOU MUST RESERVE AGAIN.

6. If you post an invalid copy of the card (i.e. it has a rule broken on it by someone else), it will be invalidated and you will have to re-apply for a turn.