Zhang Juanli (Rabbit)
Gender: Male
Location: Scotland
Rank: Ace Attorney
Joined: Fri Jul 11, 2008 4:30 pm
Posts: 14352
Liked em plenty, Peeslubn' was fantastic. Roger/Mr Reus was a great villain. The monk...allowed us to technically see Maya's boob (ok he's pretty forgettable).
Garan and the Politician I feel were very satisfying to beat as well.
---
Made by Chesu+Zombee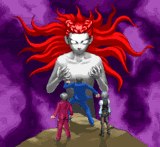 You thought you could be safe in your courts, with your laws and attorneys to protect you. In this world only I am law, my word is fact, my power is absolute.