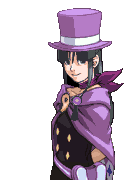 PL vs PW <33
Gender: Female
Location: Canada
Rank: Decisive Witness
Joined: Thu Apr 01, 2010 9:12 pm
Posts: 260
Untaken Fingerprint wrote:
This is really wonderful! Thank you so much for doing this! I was just about to try and make a Splash bubble for my comic, and You've saved me a lot of trouble.

Really! Thank you so much!
You're welcome, glad to help!

I was making them for a comic when I thought why not create the whole alphabet XD
oops, forgot to include the exclamation marks and dashes >__< Edited them in now.
---
Phoenix: "You know my strategy. Speak first, think later!"

devART
:.:
My wallpapers
:.:
My comics/fanart
:.:
Sprite edits
:.:
Objection font